Disclosure: As an Amazon Associate, I earn from qualifying purchases.
Is your dad the greatest cheese lover you know? This Father's Day, go all-in on cheese and get your dad one of these fun and delicious cheese gifts. From cheese to cheesemaking kits to cuff-links, here are the best cheese-lover Father's day gifts you can get.
1. Cheese BBQ Griller (Boska)
We're gonna say it…there's not enough cheese in BBQ! Let's change that with this fun and handy Cheese Griller. With it, dad can make incredible dips, spreads, and all manner of ooey gooey cheese to his heart's content. Find it on Amazon: BOSKA Barbeclette Cheese Melting Pan

2. Swiss Cheese Wood Cuff-Links (Wooden Accessories Co.)
Somehow these cuff-links manage to be both truly elegant and lots of fun at the same time. The light wood color is very modern and the little cheese design is whimsical and a bit cheeky! A unique gift for a classy dad with a cheesy sense of humor. Find it here at Wooden Accessories Co.
3. Cheese Plates (Saxelby)
OK, now we're getting serious. The cheese is here. These gift packages from the master cheesemongers at Saxelby cheese make for a very special gift for the true cheese lover. Dad will be impressed as soon as he sees the Saxelby name on the box. The options range from about $40 to over $150 with selections like this  "Perfect Cheese Plate", combining cheese, crackers, preserves, and a cheeseboard. Find it here at: Saxelby Cheesemongers.
4. "Cheese & Beer" (Janet Fletcher)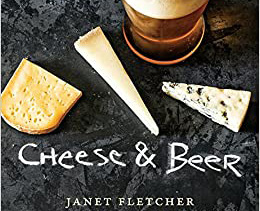 This Gourmand Award-winning book covers cheese and beer pairings and is packed with excellent ideas for entertaining and cooking with two of this earth's most glorious creations – beer and cheese! Janet Fletcher is a James Beard Award-winning food journalist who teaches cheese-appreciation classes. (Sign us up!) Bonus points for including a few bottles of beer with the gift! Find it on Amazon: Cheese & Beer book.
5. Slate Cheese Board (Brooklyn Slate Co.)
Non-porous, durable slate makes for a long-lasting and stylish cheeseboard. These hand-cut cheese boards from Brooklyn Slate are of great quality. The slate is sourced from the family quarry in upstate New York, cut and cleaned to be food safe. Each cheese board has anti-slip padded feet and is packaged with soapstone chalk in a burlap bag. You can even have it personally engraved. From $29 to $48. Find it here at: Brooklyn Slate Co.
6. Smoked Cheddar Bratwurst (Nueske's)
The Nueske family has been making quality smoked meats in Wisconsin since the 1950s. This Father's Day, give dad the gift of putting his feet up while you grill these mouthwatering cheese stuffed smoked brats. So juicy, with a snappy casing and tender interior, filled with generous amounts of classic Wisconsin cheddar cheese. OK, we're officially hungry now! Find it here at: Nueske's.
7. Cheese-Making Kit (Standing Stone Farms)
For the cheese-loving DIY dad. This cheese making kit was actually voted "best gift for a dad who loves culinary creations" by Faveable in 2016. Includes everything he'll need (minus fresh ingredients) to make Mozzarella, Chevre (goat Cheese) Queso Blanco, Mascarpone and Ricotta. Phew! Comes with detailed recipes & easy to follow instructions!!! For more information, you can also buy the instructional DVD. Find it here at: Standing Stone Farms.
We know your cheese-loving dad will be thrilled with any of these cheesy gifts. Have fun celebrating with family this Father's Day!